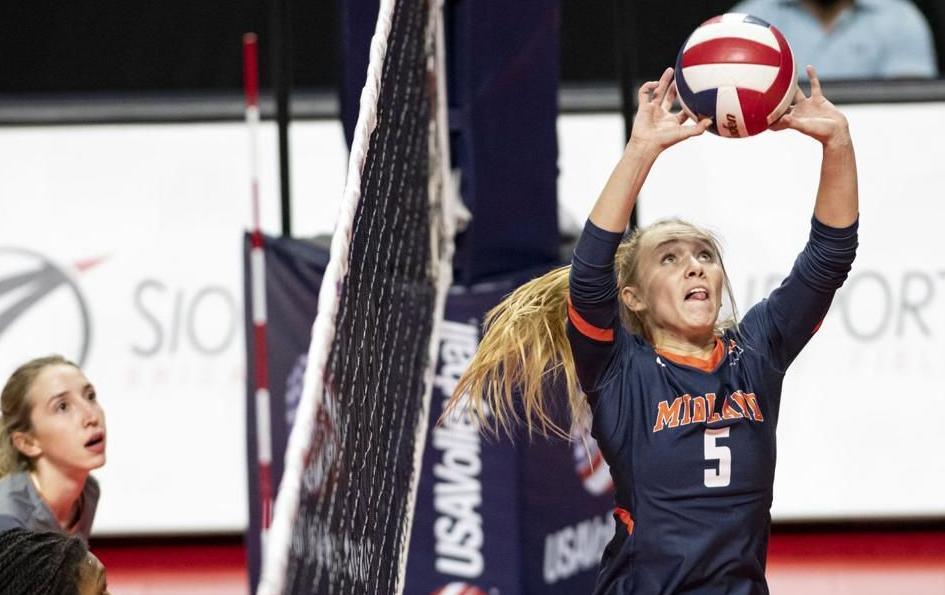 There are a couple of things Paul Giesselmann looks for when recruiting setters to Midland.
The Warriors coach wants a leader at the position, a player with a high volleyball IQ. But above all, he wants winners.
"I want a player that absolutely hates losing in the setter position," he says.
When Giesselmann, in his 12th season at Midland, first began recruiting Hope Leimbach out of Lincoln Lutheran, he saw a player with a lot of athleticism and an ability to lead. And, yes, a player that hates to lose.
"It jumped at me right away," he said.
Leimbach is piloting a Midland team that, simply put, wins. The Warriors are 23-5 and ranked No. 9 nationally heading in the NAIA final site tournament, which begins Tuesday in Sioux City, Iowa. Five Warriors have 100 kills or more, including Taliyah Flores, who has more than 400.
Setting the table for those attackers is Leimbach, who ranks third in the NAIA in assists per set (11.95). Her play this season was impressive enough for Leimbach to be named, not only the league's setter of the year, but the Great Plains Athletic Conference player of the year.
It's quite an honor considering the GPAC has seven teams remaining in the GPAC Tournament. It's the NAIA version of the Big Ten, Giesselmann said. The conference is loaded with great teams and great players.
That's what made it an "awesome feeling," said Leimbach, who has 1,241 assists this year, and already is fourth on the school's all-time list in career assists with 3,062.
"Every night in the GPAC we play so many talented players and teams, so the fact that the coaches voted for me just makes me feel really good about myself," she added. "... I obviously wouldn't be where I am today without my team and all the work they do to make my job easier on the court."
Leimbach, a 5-foot-4 junior, is continuing a great run of setters at Midland.
Syracuse graduate Megan Farley was a four-year starter and an all-conference performer for Giesselmann. After Farley graduated, Jessica Peters stepped in, started four seasons and led the Warriors to two final four appearances. Now it's Leimbach, who led Midland to an NAIA runner-up finish last season.
"It definitely keeps me from losing more hair," Giesselmann said when asked about having a bonafide setter in place for multiple seasons. "When you got your setter position set, then you can really focus on building the other positions around the setter, and that's what we've been able to do here."
And the common trait between Farley, Peters and Leimbach?
"Hated losing," the coach says.
Leimbach started as a freshman, but it wasn't an easy start.
"It was a big adjustment," she said. "Everything is a lot quicker, the girls are bigger. It was a really good learning experience and I have grown a lot since playing my freshman year."
Leimbach's mental game expanded. She began focusing more on what the other teams were doing, how to attack the block while making smarter decisions and improving her defense. Her biggest growth came as a sophomore. Midland played last fall, but the NAIA Tournament was pushed to last spring because of COVID-19. That's where Leimbach blossomed, her coach says.
Leimbach set an NAIA-best 12.1 assists per set last year, and that number jumped to 12.7 during the NAIA Tournament.
"You could see her leadership just went to another level," Giesselmann said. "That was a big reason why we were in the national finals."
The Warriors, who were ranked No. 1 in September, are ready to make another run. The battle-tested team plays one of the toughest schedules in the nation, which is by design. Of the teams remaining in the NAIA Tournament, Midland had played 13 of them, going 13-3.
Does Midland have another deep run in it? Leimbach and the Warriors are hoping so.
"It was one of the best feelings ever getting to play in the national championship, and I think the fact that we were so close really motivated us to put in a lot of work in the offseason," Leimbach said.
Midland begins pool play Tuesday against No. 15 Montana Tech.
The NAIA field also includes three other Nebraska schools — Concordia, Bellevue and College of Saint Mary.