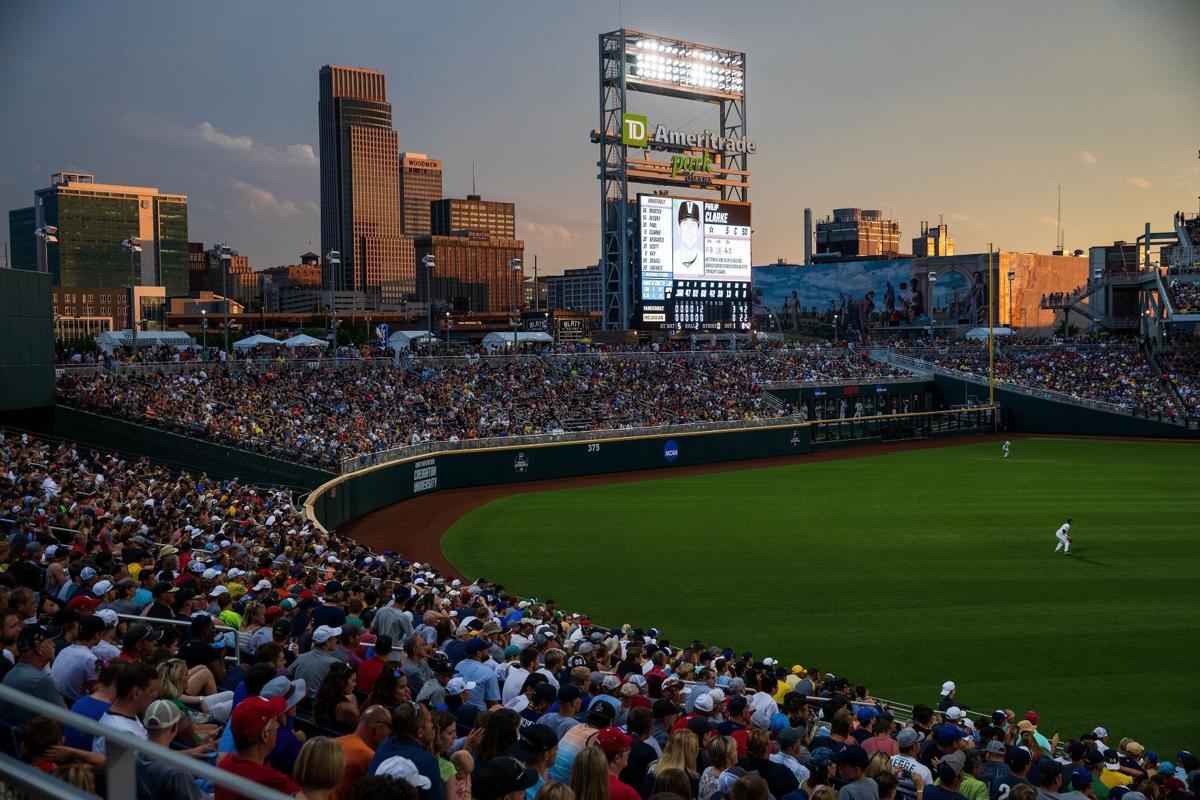 The Greatest Show on Dirt returns to Omaha this week with a few changes from past years.
Ahead of the first College World Series game Saturday, officials with the city, the NCAA and the CWS outlined what fans need to know about tickets, fan events, security, food, and pandemic protocol.
Notes from the press event:
Tickets, payment methods
All tickets this year will be digital, even ones purchased from the box office.
Fans are encouraged to download the NCAA's Men's College World Series app, where people can sign up for alerts, manage tickets, view schedules for games and fan events and participate in virtual events.
Cash will not be accepted at the ballpark, but people will have access to "reverse ATMs." The machines convert cash into a Visa debit card and are free to use.
Tickets remained available Wednesday.
Fan events scaled back
In a typical year, the College World Series offers opening ceremonies, fireworks, autograph sessions and open practices.
But those types of events aren't happening this year. Even performances of the national anthem will be virtual.
Anthony Holman, the NCAA's managing director of championships and alliances — playing rules and officiating, was asked why some events have been scaled back or canceled when the stadium will be at full capacity for games.
He said decisions on events and scheduling were made back when the landscape of COVID-19 cases, vaccination rates and event capacities looked different than it does today.
Fans still will find plenty of fun. A kid-friendly event Monday afternoon will offer events and foods geared toward youngsters. Planned theme nights include Throwback Thursday (wear a vintage CWS shirt) and country night on Friday.
"Tailgating goes on," said Jack Diesing, chairman and president of College World Series of Omaha Inc.
Nearby entertainment venues, including Slowdown and the Old Mattress Factory, have CWS parties planned.
A daily schedule of fan activities and theme nights, photo features and giveaways can be found on the CWS app.
Food
Chefs at TD Ameritrade Park are keeping it old school this year, focusing on classics such as burgers, brats and tacos.
A full look at this year's offerings — including a Reuben and "Grounds Crew Totchos" — can be found here.
"We can guarantee there will be something for every foodie at the CWS," said Diane Duren, chairwoman of Metropolitan Entertainment & Convention Authority board. MECA manages TD Ameritrade Park.
Public safety
Outside of the ballpark, fans on sidewalks or at intersections will be protected by concrete barriers and protective bollards. Security officers will use electronic wands to scan entrants.
Omaha police officers will patrol inside and outside the stadium.
Visitors are "the extra ears and eyes of our local law enforcement," Duren said. She encouraged fans to report suspicious behavior to authorities.
The stadium has a clear-bag policy. All bags larger than 4½-by-6½ inches must be be made of clear plastic.
Pandemic protocol
CWS officials will conduct more sanitization during and between games, and hand sanitizer stations will be available throughout the stadium, Duren said.
Fans have a role to play too, Diesing said. Masks won't be required, but he encouraged people to wear one if they feel the need.
"If you're sick, it's OK if you stay home and watch it on television," Diesing said.
On Saturday and Sunday, the Douglas County Health Department will host a vaccine clinic from 10 a.m. to 6 p.m. in the parking lot on 10th Street, north of the CHI Health Center.
Despite the many changes this year, Diesing said he's excited for a return to baseball.
"This is all about hosting a national championship," he said, "and the kids that play this game for the love of the game."