Steven M. Sipple: Deadspin 'tipster' raises Chizik's ire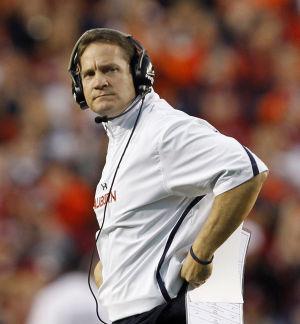 September 19, 2013 9:00 pm
•
Intent to harm.
Those three words had Gene Chizik in a lather Wednesday during his radio show on SiriusXM.
Bo Pelini says he doesn't know Chizik all that well. Nevertheless, Chizik, former head coach at Iowa State and Auburn, strongly backed the Nebraska head coach while also throwing roundhouse punches at the infamous Deadspin "tipster" as well as Tommie Frazier.
I'm forever interested in how "the outside world" views the happenings in our neck of the woods.
If nothing else, Chizik's support for Pelini should guarantee lifetime membership in the coaching fraternity. These guys have to stick together.
In that regard, it's no surprise Chizik stood up for Pelini. The surprise, at least to me, was the passion in Chizik's voice.
"For people to be calling for his job because this (audiotape) was displayed to the public is insanity. It's crazy. It makes absolutely no sense," Chizik said of Pelini, who came under fire earlier this week because of an expletive-filled audiotape sent anonymously to Deadspin, in which Pelini bashes Nebraska fans and media.
Chizik, like most folks, understands the importance of context in this situation. Pelini's comments came after an emotional comeback victory that followed an emotional week. Nebraska fans booed the team at halftime. Many fans left the game early. Pelini was rankled.
Chizik emphasized "intent to harm," in that the tipster apparently sought to ruin Pelini's career. Chizik is like a lot of folks: He wants the tipster's name to become public. Chizik went one step further: He wants the tipster to answer questions in a news conference.
"I might fly there (to Lincoln) to attend it," the former coach said. "I would love to sit in front of this (person) and say, 'OK, give me the reasoning behind the timing. Why did you do it? Do you understand how this affects everybody at the University of Nebraska?'"
Of course, Chizik knows the tipster would never face questioning publicly, "because it's another example of a coward hiding behind either a pen or keyboard or whatever hoping -- probably curled up in the fetal position in some corner -- they don't get exposed."
Chizik made another excellent point that tends to get lost in the discussion: Some fans clearly derive pleasure from seeing a head coach take a fall. 
As for Frazier, Chizik and his co-host, Chris Childers, were sharply critical of the former Husker great's tweets last weekend calling for the firing of the defensive staff.
Chizik noted Frazier's greatness on the gridiron.
However, "Let me be real clear with this: That doesn't qualify you as an expert to question coaching, because you played," Chizik said. What's more, "(Frazier) instead could be an ambassador for the school. He could be the one who could say, 'Hey guys, hang tight. Give them a chance. They're going to get it fixed.'
"Instead, he creates the beginning of this unneeded crapstorm."
Unneeded crapstorm. That pretty much sums up the week.
THE NO-HUDDLE
These games are key
The obvious: Michigan State (3-0) at No. 22 Notre Dame (2-1). Go ahead, yawn, Husker fans. But this game is a good scouting opportunity for you (Michigan State comes to Lincoln on Nov. 16). Notre Dame's offense is comparable to Nebraska's statistically. Let's see how well the Irish move the ball against the nation's top-ranked defense in terms of average yards allowed (177.0 per game). Look for a very low score, and an upset. Michigan State 17, Notre Dame 12.
The not-so-obvious: Kansas State (2-1) at Texas (1-2).  Nebraska fans can take solace in Texas' problems on defense (the Longhorns rank 114th in total defense among 123 teams). Texas has problems, period. However, as things stand, the majority of UT's most influential boosters reportedly remain solidly behind head coach Mack Brown, 23-19 in his last 42 games at the school. Texas has lost its past five meetings to Kansas State. Not this time. 'Horns by a field goal.
Heisman watch
QB Marcus Mariota, Oregon
QB Tajh Boyd, Clemson
QB Teddy Bridgewater, Louisville
RB Todd Gurley, Georgia
QB AJ McCarron, Alabama
Keep an eye on: Johnny Manziel. I know, I know. You think Johnny Trouble is too despicable of a character to deserve a second Heisman. Trouble is, the Texas A&M sophomore is a sharp-shooting gunslinger. And get this: Seven NFL scouts from various teams agreed to discuss Manziel anonymously with the Fort Worth Star-Telegram. Four called him a first-round pick, with one believing "he will go in the top 10." He swears he is 6-feet tall. Not sure it matters in this case.
Crunching numbers
105th
Nebraska's national ranking in punt returns. Jamal Turner averaged 3.0 yards on the Huskers' only two returns of the season. That is two returns out of 12 punts, seven of which were downed inside the 20. NU is hoping for a boost from redshirt freshman Jordan Westerkamp and true freshman Terrell Newby, who take over this week in place of Turner.
Thumbs up -- To Nebraska offensive coordinator Tim Beck, for his transparency. He spoke openly this week about the need to narrow the focus of his attack. With so many plays, so many formations, so much motion, details get glossed over. Attention to detail helps separate great teams from the pack. Time for NU to get back to the details.
Thumbs down -- To Tommie Frazier. His tweets suggesting Nebraska's defensive coaching staff be fired (after three games) fosters a casual attitude toward a serious subject. Frazier, and plenty of others, seems awfully casual about Nebraska lapsing into the hire-fire cycle. Perhaps dear ol' NU isn't as unique as we would like to think.
Five to go
I am in no way suggesting Mack Brown should be fired. But I am here to help, just in case. I regard the following as intriguing possibilities at Texas (and never mind the Nick Saban pipe dream):
-- Jim Mora, UCLA coach: My top choice. A fiery, aggressive, player-friendly coach who fits perfectly in Los Angeles. Why not Austin?
-- Jim Tressel, former Ohio State coach. He wouldn't be intimidated by the job's enormity. Been there, done that. Might be hungry to prove himself again.
-- Art Briles, Baylor coach. He oversees a recruiting machine. And he's "Texas" through and through.
-- Kevin Sumlin, Texas A&M coach. He would be higher on my list if not for this question: Could Texas hire an Aggie?
-- Pat Fitzgerald, Northwestern coach. He would be higher on my list if I didn't think he would be a grand-slam fit at USC.