Steven M. Sipple: Bohl's program recruiting Nebraska talent with zeal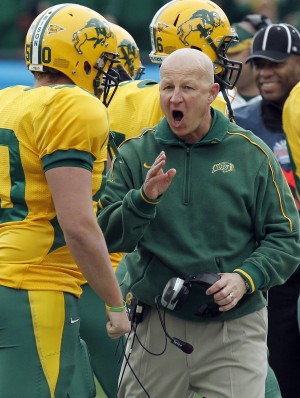 At least one bona fide national power in college football has altered its recruiting approach to enhance its presence in Nebraska.
So, don't be surprised if you see Craig Bohl in a nearby school hallway.
"Nebraska at one time was thought of as a secondary area for us," the 11th-year North Dakota State head coach told me last week. "It's being viewed as a primary area for us now."
North Dakota State's two straight Football Championship Subdivision titles no doubt will help get its foot in some doors.
Bohl, the former Nebraska defensive coordinator, said last week that NDSU's shift in thinking regarding the Cornhusker State began about five years ago. Then, when Nebraska-Omaha dropped football in 2011, the emphasis increased. The approach further makes sense in that Bohl is a Lincoln East graduate.
North Dakota State, 14-1 last season, makes most of its recruiting hay in North Dakota and Minnesota. The Bison's 82-man roster has 31 players from Minnesota and 19 from North Dakota. Wisconsin is next at nine.
Then comes Nebraska with five.
"We've been real pleased with the players we have from Nebraska," Bohl said. "The lion's share have started for us."
North Dakota State played ferocious defense last season, holding opponents to 234.5 yards and 11.5 points -- leading the FCS in both categories. A pair of native Nebraskans helped lead the charge.
Christian Dudzik, a junior from Omaha Skutt, ranked fourth on the team in tackles and had two interceptions. One recruiting analyst told me the 5-foot-10, 185-pound Dudzik could start for at least half of the Big Ten teams.
Dudzik recently ran a 4.37-second 40-yard dash for NFL scouts, Bohl said.
Kyle Emanuel, a junior defensive end from Schuyler, ranked seventh on the team in tackles and was second with seven sacks.
Meanwhile, a pair of Beatrice High School graduates made their mark on offense. Garrett Bruhn, a 6-1, 244-pound athlete, played fullback as a freshman before being moved to tight end. He was a team captain last season as a senior.
Jesse Hinz, a 6-3, 300-pound offensive lineman, played in seven games as a sophomore in 2011 before missing last season with a torn pectoral muscle. As a true freshman in 2010, he started four of the final fives games at center.
Derek McGinnis, a quarterback from Crete, and Bo Liekhus, a safety from Bellevue West, sat out last season as redshirts.
Bohl notices common traits in players from Nebraska, and the upper-Midwest in general: They have a strong work ethic, and football is extremely important to them. 
"They may not be as refined as a guy from Texas or Florida," the coach said. "But if you work with them, well, we've gotten good results from those guys."
If it's not Bohl you see combing our state, it likely will be another Lincoln native -- NDSU linebackers coach Steve Stanard, a Lincoln Southeast graduate who lettered as a Husker defensive end in 1987. He's in charge of recruiting South Dakota and Nebraska.
NDSU is known to have significant interest in at least two standout Nebraska prep defenders -- three-star ends Harrison Phillips of Millard West and Mick Stoltenberg of Gretna. NDSU has offered Phillips a scholarship, and Stoltenberg could receive an offer soon, an analyst said.
North Dakota State forever will continue to recruit the North Dakota-Minnesota-Wisconsin-South Dakota footprint; it has since the late 1960s, Bohl said. The Bison typically reel in most of their offensive linemen from rural areas in Minnesota, North Dakota and Wisconsin.
Make no mistake, North Dakota State has as much first-unit talent as many FBS teams. The Bison have a possible first-round NFL draft pick at cornerback, as well as legit NFL prospects at running back and left tackle.
It helps greatly in recruiting to have stability in the coaching staff, said Bohl, who experienced it at Nebraska.
He long has emphasized the influence Tom Osborne has on his coaching. Of course, the influence extends to recruiting, specifically Osborne's emphasis on recruiting in-state talent. At times, Bohl admits, he questioned the approach while at NU.
"I'd kind of raise my eyebrows, thinking, 'OK, is this guy really good enough to win in the Big Eight or Big 12?'" Bohl said. "Whether it was Phil Ellis or Chris Dishman or Tony Veland or Chris Kelsay -- all of them turned out to be good players.
"When I got to North Dakota, we really emphasized recruiting our state," Bohl said during a break in his annual trek to every high school in North Dakota.
"We kind of took the model coach Osborne had at Nebraska and just moved it 500 miles north."
Three quick strikes and I'm out:
* Michigan continues to create a stir. The Wolverines on Sunday picked up a verbal commitment from Jabrill Peppers, a 6-1, 210-pound cornerback from Paramus, N.J. He's ranked by ESPN as the No. 2 player overall in the class of 2014. The Wolverines' 10-player class is ranked No. 1.
* Texas, Florida and California rank Nos. 1, 2 and 4 in terms of states that have produced the most NFL first-round draft picks during the past four years (based on where players attended high school). No surprise there. Meanwhile, Georgia is third, Alabama fifth, Missouri sixth and South Carolina seventh. All hail, SEC.
* Nebraska stands at two verbal commitments, but action could pick up around the time of the June 15 Big Red Weekend. Eight players have confirmed they're coming, according to HuskerOnline.com, including four-star all-purpose back Tony James of Gainesville, Fla. His list of schools offering a scholarship includes Nebraska, Ohio State, Oregon, Florida, Florida State, Miami and UCLA.