Beatrice man is suspect in deadly Louisiana shooting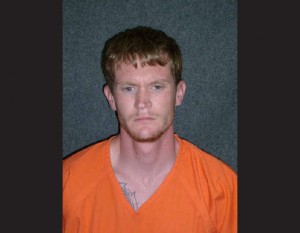 August 16, 2012 7:30 pm
•
Kyle Joekel has been at the top of Gage County's most dangerous list for nearly one year.
On Thursday, the 29-year-old Beatrice man was in police custody in Louisiana, held as one of five suspects in a shooting that left two deputy sheriffs dead and two others injured.
He was last seen in Gage County on Aug. 21, 2011. That night, after making threats towards patrons and law enforcement officials at the Grand Ave Bar in Barneston, Joekel eluded capture, escaping into Oketo, Kan. Beatrice Police surrounded a home one in an attempt to capture him a week later but he slipped past officers again.
A warning on the top of the Gage County Sheriff's website declared Joekel a dangerous fugitive. "Be on the lookout, considered dangerous, do not approach."
Joekel was arrested Thursday in LaPlace, La., one of five suspects in what is being described as an ambush-style shooting of several St. John the Baptist Parish sheriff's deputies, the Gage County Sheriff's Office reported.
Two deputies, Brandon Nielsen, 34, and Jeremy Triche, 27, were killed. Two more were injured.
The shooting occurred in LaPlace, about 25 miles west of New Orleans.
Police responded to a first shooting around 5 a.m. Thursday in a parking lot at a steel plant. The ambush happened when they went to a nearby trailer park to investigate and a man armed with an assault rifle opened fire.
It is not clear what role Joekel played.
In addition to the two wounded deputies, two of the five suspects -- both men and women – who were taken into custody were hospitalized with gunshot wounds, Louisiana State Trooper Melissa Matey told the Associated Press.
Early Thursday afternoon, Beatrice Police Investigator Erin Byrne said law enforcement networks were reporting Joekel was involved in the shooting.
Gage County Sheriff Millard "Gus" Gustafson confirmed that news later Thursday, saying local law enforcement had spoken with Louisiana law enforcement to confirm Joekel's identity.
"We knew he was quite a ways from here," Gustafson said. "We have had agencies in the last year call us who had dealt with him. They called to talk to us, wanting confirmation who he was, but he eluded capture from them."
Gustafson expressed regret that Gage County authorities weren't able to capture Joekel before he became a suspect in a cop killing. He said the department's "hearts, prayers and thoughts go out to the families."
He said Louisiana law enforcement did not say where Joekel was being held or what condition he was in Thursday. Gage County will hold a warrant for Joekel's arrest until his situation becomes clearer, Gustafson said.
Joekel also has active warrants for his arrest in Kansas.