Basketball coach returns to tribal roots, gives back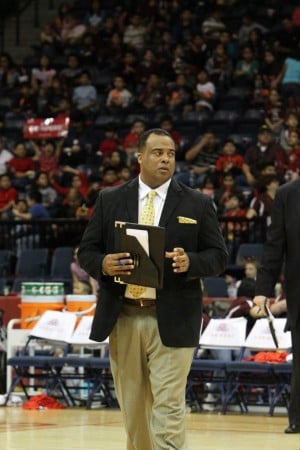 Fred LeRoy handed the star blanket to Jai Steadman and reminded his nephew of his tribal roots.
Back when buffalo still roamed the Great Plains, the Ponca people would bless their marriages by placing buffalo hides on the shoulders of couples, the Ponca elder told the younger man. The act cemented the bond between a man and woman.
Today, with the wild buffalo gone from the plains, star quilts have taken the place of hides, LeRoy told his nephew.
"I said, 'You're a Ponca. We Indian people do that. Be proud of who you are and practice your culture.'"
That's just what Steadman did May 7 as he prayed to the four winds and recited his wedding vows on South Padre Island, Texas. A Christian pastor wrapped Steadman and his wife, Sally Delgado, in the star quilt given to him by his uncle and burned sage to purify the ceremony.
The ceremony marked two beginnings for the 40-year-old Ponca man, who embarked recently on a journey of self-discovery. Steadman grew up in Lincoln as the adopted son of non-Native parents. His father, James Steadman, was a University of Nebraska-Lincoln professor of plant pathology. His mother, Sharon, was an elementary school teacher.
Two years ago, after gaining access to his birth records, Steadman learned he had been born in a Geneva women's shelter to a 15-year-old Ponca woman in prison at the time. His mother, Carol Joy, had given up her half-Ponca, half-black son for adoption shortly after he was born.
He also learned his mother had died five years earlier of hepatitis, but he decided he would try to reconnect with his Ponca family anyway.
"Being Native American means a lot to me," he said.
He had just joined the Rio Grande Valley Vipers, an NBA D-League team, as an assistant coach after having spent the previous 17 years as a coach and administrative assistant for college and minor league professional basketball teams in Nebraska, Michigan, Louisiana and Denmark.
His first attempt to reach his Ponca family was a letter to his uncle and aunt, Fred and Wanda LeRoy in Omaha. He got a letter back from his cousin, Rhonda Weston.
"It was awesome," Steadman said. "It was definitely important to me."
After learning about his uncle, Fred LeRoy, he prepared to meet him in spring 2009.
"It made me really, really nervous because he's such a great man," Steadman said.
LeRoy played a key role in restoring the Ponca Tribe's status as a federally recognized tribe in 1990, 24 years after the tribe's status had been terminated. He later served as the first chairman of his newly restored tribe.
The two Ponca men -- one a venerated elder of his tribe, the other a rising star within semi-professional basketball -- sat across from each other in LeRoy's Omaha home and talked about the past and present. Steadman learned about his mother's strength and willingness to stand up for a just cause, as well as her weaknesses.
He learned about his uncle's service in Vietnam as a Marine and about his tribe's history and culture. His uncle gave him photos of his mother as a child and woman, as well as a quilt Carol Joy had stitched while in prison.
He told his uncle about earning a degree in family and consumer science from the University of Nebraska-Lincoln in 1997 and about serving as an administrative assistant for the Nebraska men's basketball team from 1992 to 1997.
And they talked about the future, about Steadman's desire to help his tribe.
On Tuesday, Steadman fulfilled that desire when he hosted a basketball camp for 42 boys and girls, ages 5 to 18, in Winnebago. Besides teaching them about pivots, layups and defensive stances, he told the boys and girls about the importance of staying in school.
"They listen to him," LeRoy said. "I just hope that he gets the word around so that we get more kids graduated."
Steadman hosted a similar basketball camp in Norfolk last year for Ponca youths. In September, he plans to return to Lincoln to help host a tribal youth leadership summit that will draw four students from each of Nebraska's four federally recognized tribes. He said he hopes to be able to take the students to the Sept. 10 Nebraska-Fresno State football game.
"Through basketball, he believes he's had these wonderful opportunities, and that's what he wants to share back," said Judi M. gaiashkibos, executive director of the Nebraska Commission on Indian Affairs, which helped Steadman and the Winnebago Tribe host the basketball camp last week. The commission also will host the tribal youth summit in September.
"He seems to be like a real well-rounded person who's comfortable in his own skin," she said. "He also wants to learn more about his Indian side."