A fish with two mouths?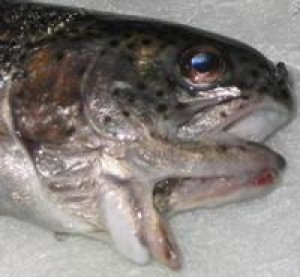 December 20, 2005 6:00 pm
•
It's like something out of that episode of "The Simpsons," where Bart catches a three-eyed fish named Blinky. Saturday, Clarence Olberding of Lincoln had a similar experience: He pulled a rainbow trout with two mouths out of Holmes Lake.
"I reached down and grabbed it to take the hook out and that's when I noticed that the hook was in the upper mouth and there was another jaw protruding out below," the 57-year-old said.
In his 40 years of fishing, Olberding has seen fish with missing fins — and a fish with one eye — but he'd never seen two mouths. Update: Fish headed to Harvard
He yelled at a nearby fisherman to take a look. "The guy said: 'I've seen a lot of strange things fishing but I've never seen anything like that.'"
He wasn't the only one. It was also a first for Don Gabelhouse, who heads the fisheries division of the Nebraska Game and Parks Commission.
"It's probably a genetic deformity," he said. "I don't think there's anything wrong with it."
The trout, which weighed just under a pound, came from the Grove Trout Rearing Station near Royal in northeast Nebraska. Each year, the commission stocks about 140,000 trout in lakes across the state for fall and winter anglers.
"Every now and then you are going to see some anomalies when you are dealing with that many fish," said Steve Wilhelm, fish production manager.
Genetic mutations in fish do occur in the wild, he said, but they're more likely in captive populations, like a fish hatchery.
The trout that ended up in Holmes Lake originally came from a Wyoming hatchery and arrived as fingerlings in Nebraska, Wilhelm said. He declined to name the Wyoming location.
"They've been very good fish, normally," he said, although there have been more recent incidents of deformities.
Back at Holmes Lake, the trout's second mouth did not appear to be functional. "It led to a blind hole or pouch," Olberding said.
At the urging of his wife Charrye, Olberding snapped photos and e-mailed them to his fishing buddies. He doesn't plans to have the fish mounted.
"I'm going to smoke it up and eat it."
Reach Algis J. Laukaitis at 473-7243 or alaukaitis@journalstar.com.